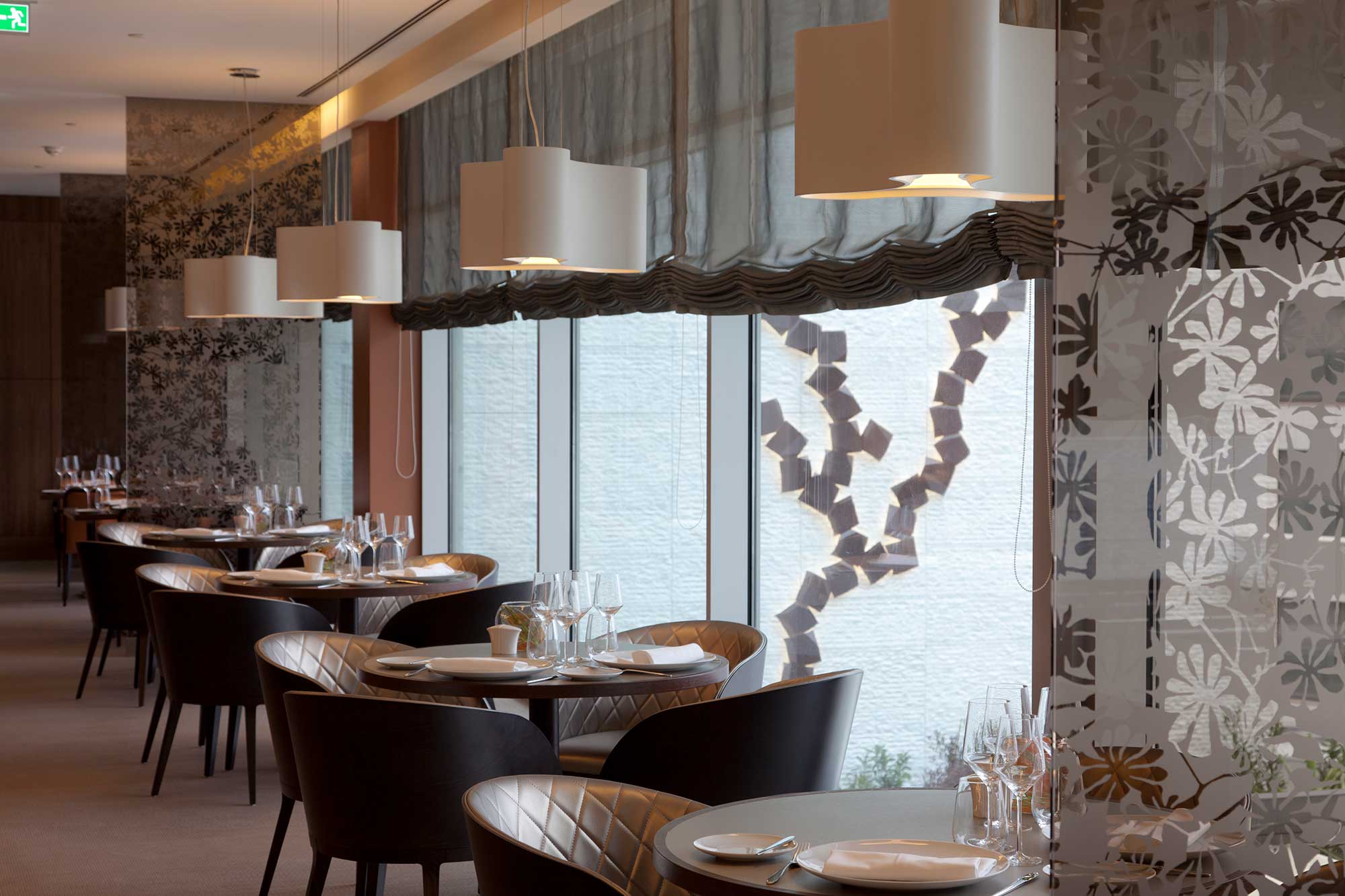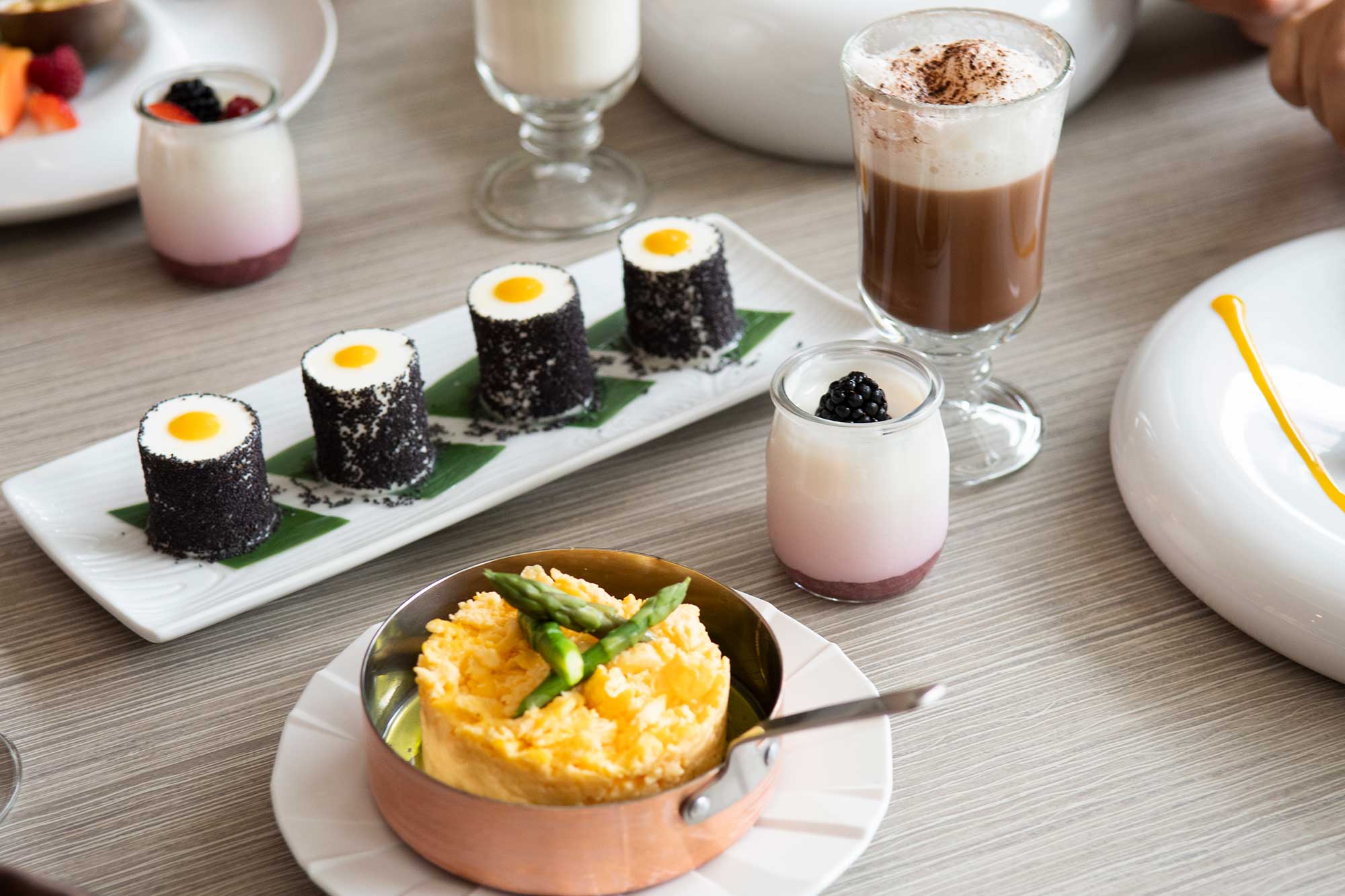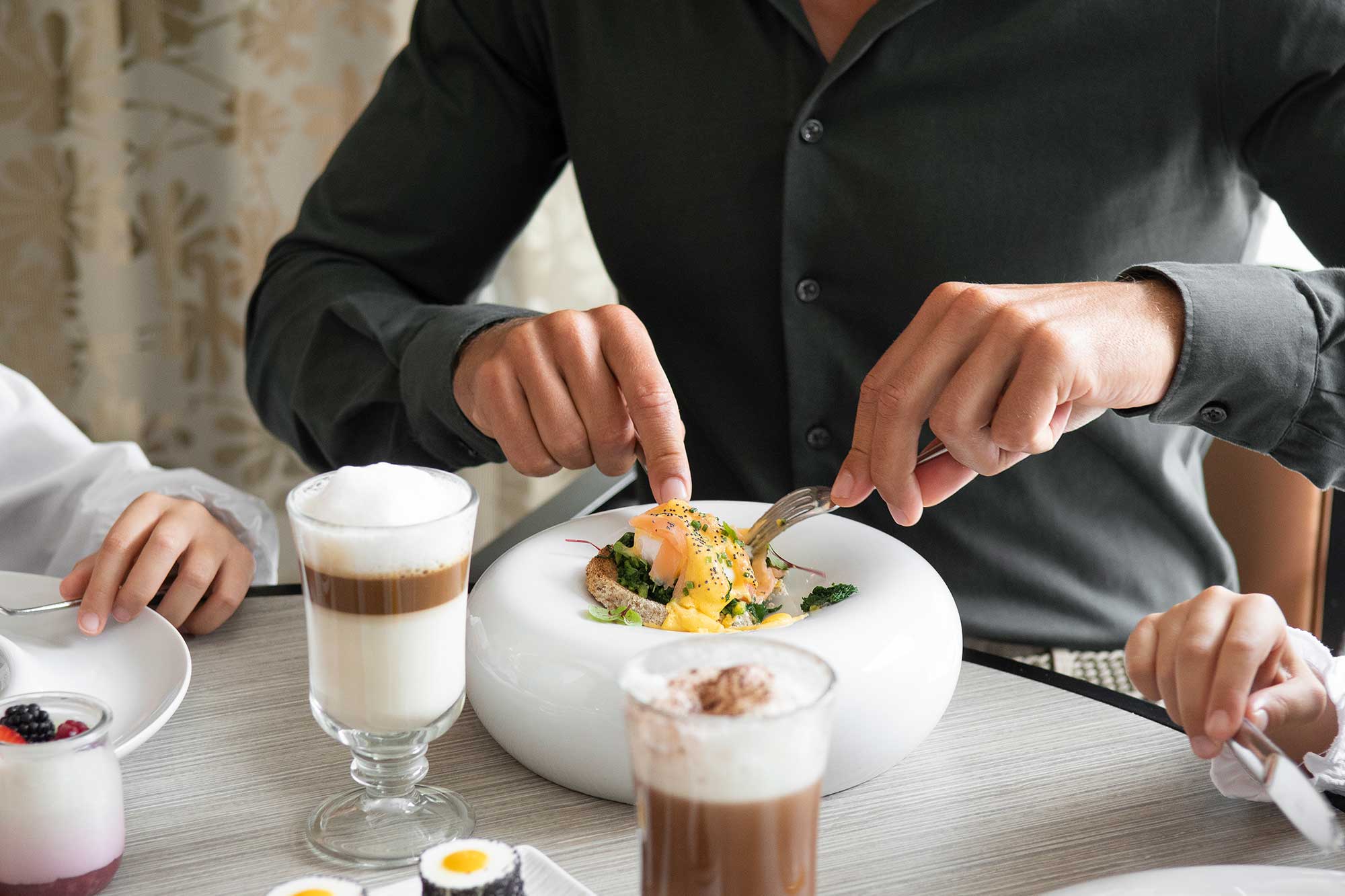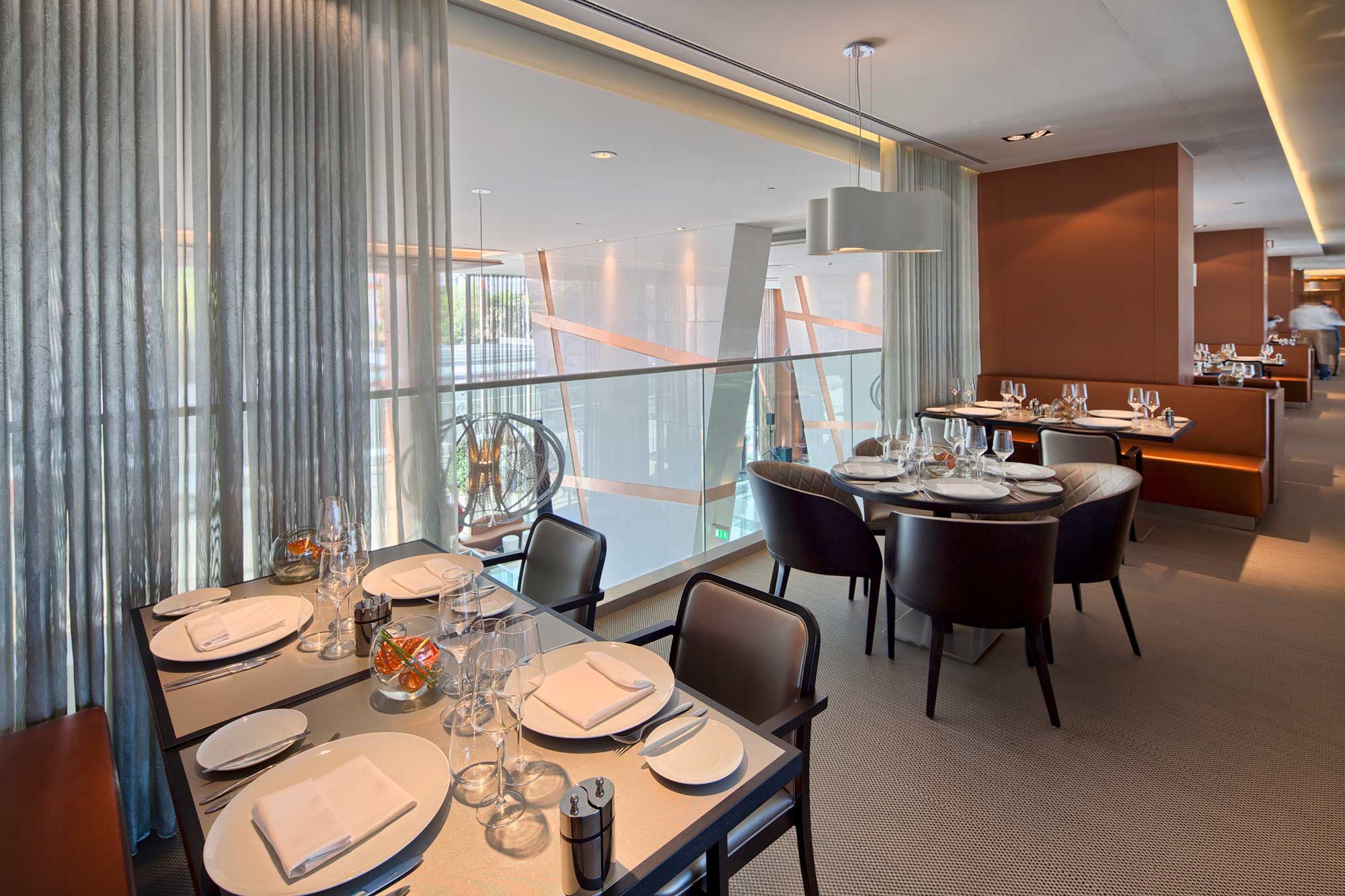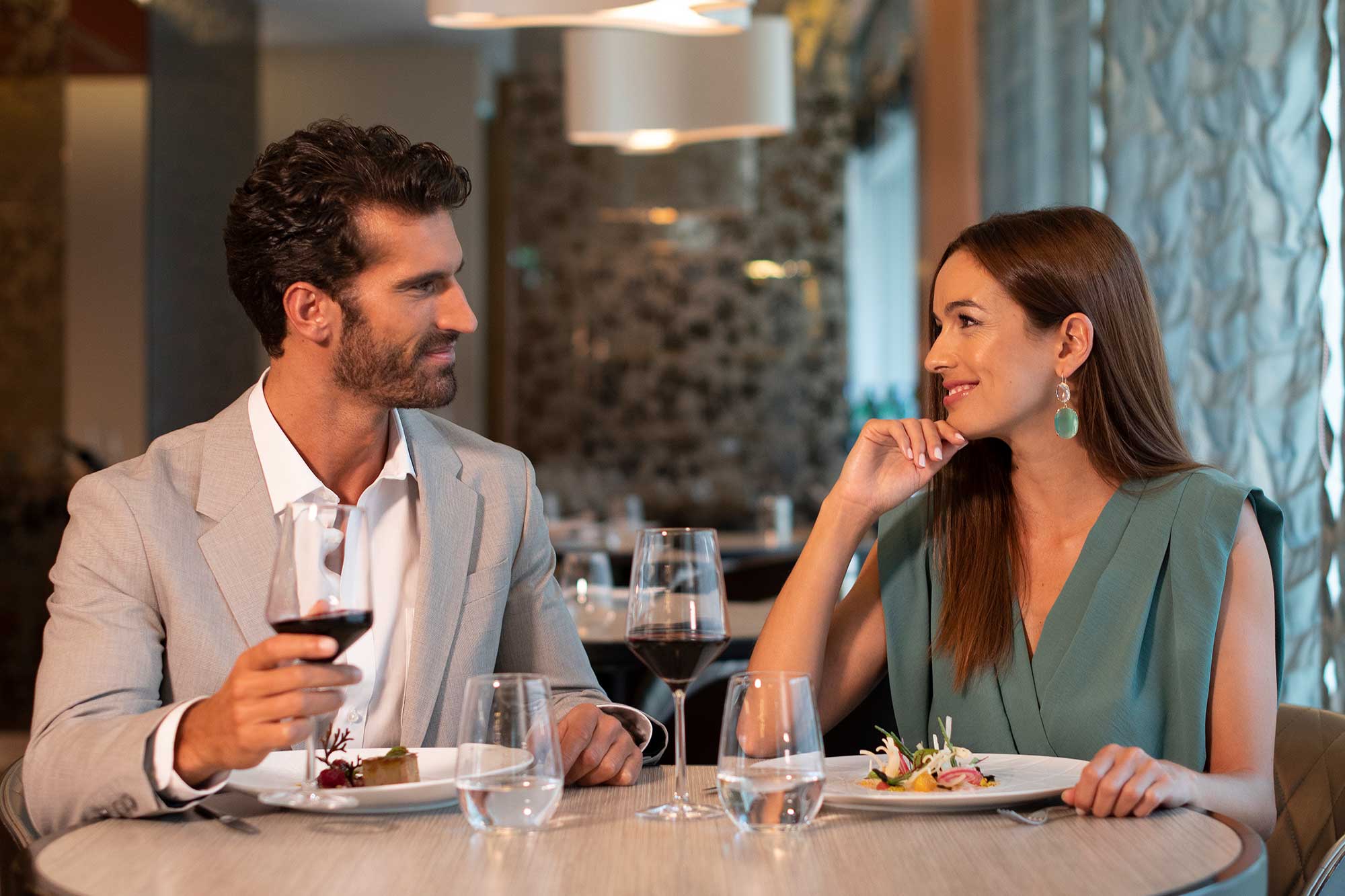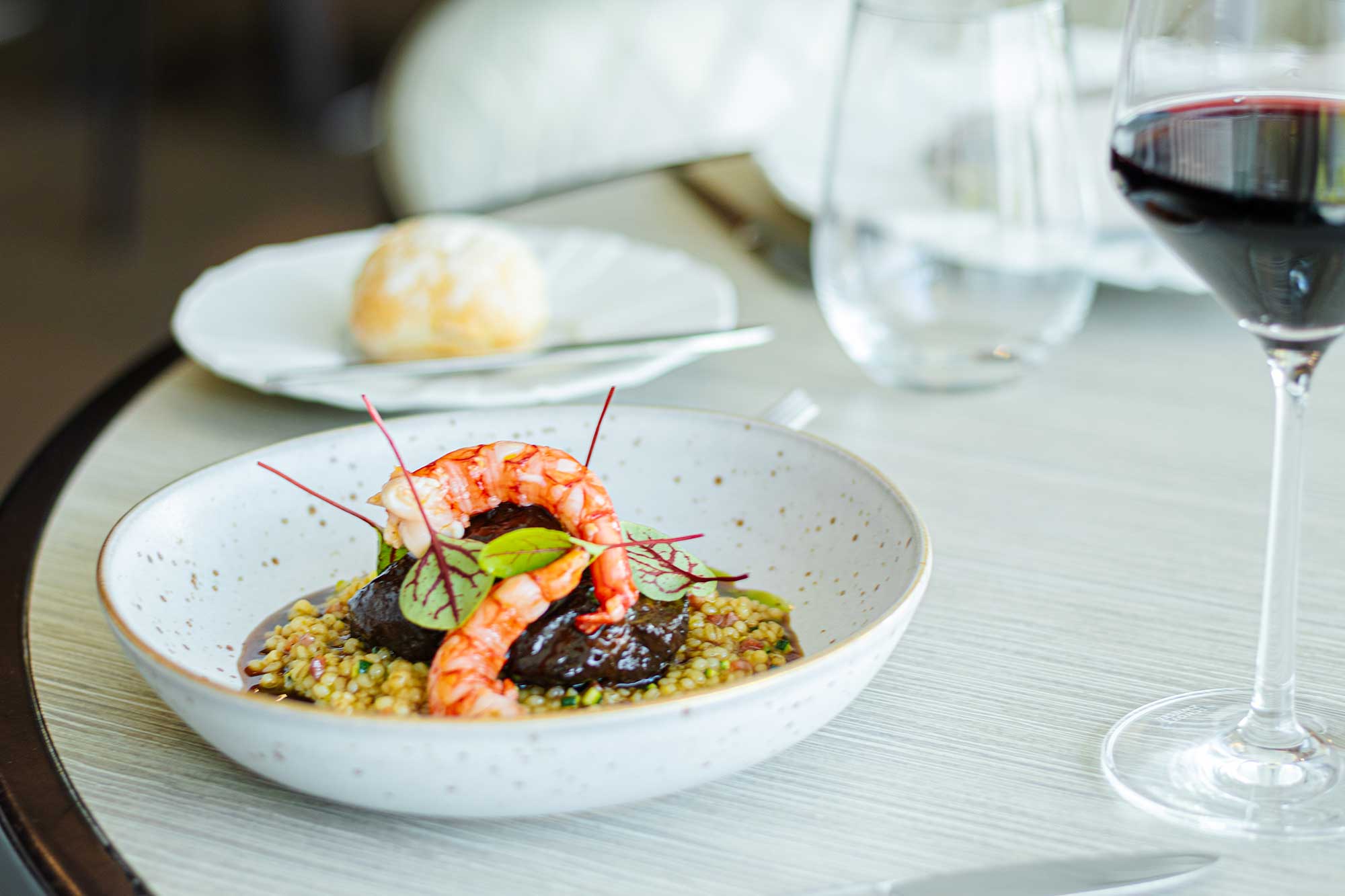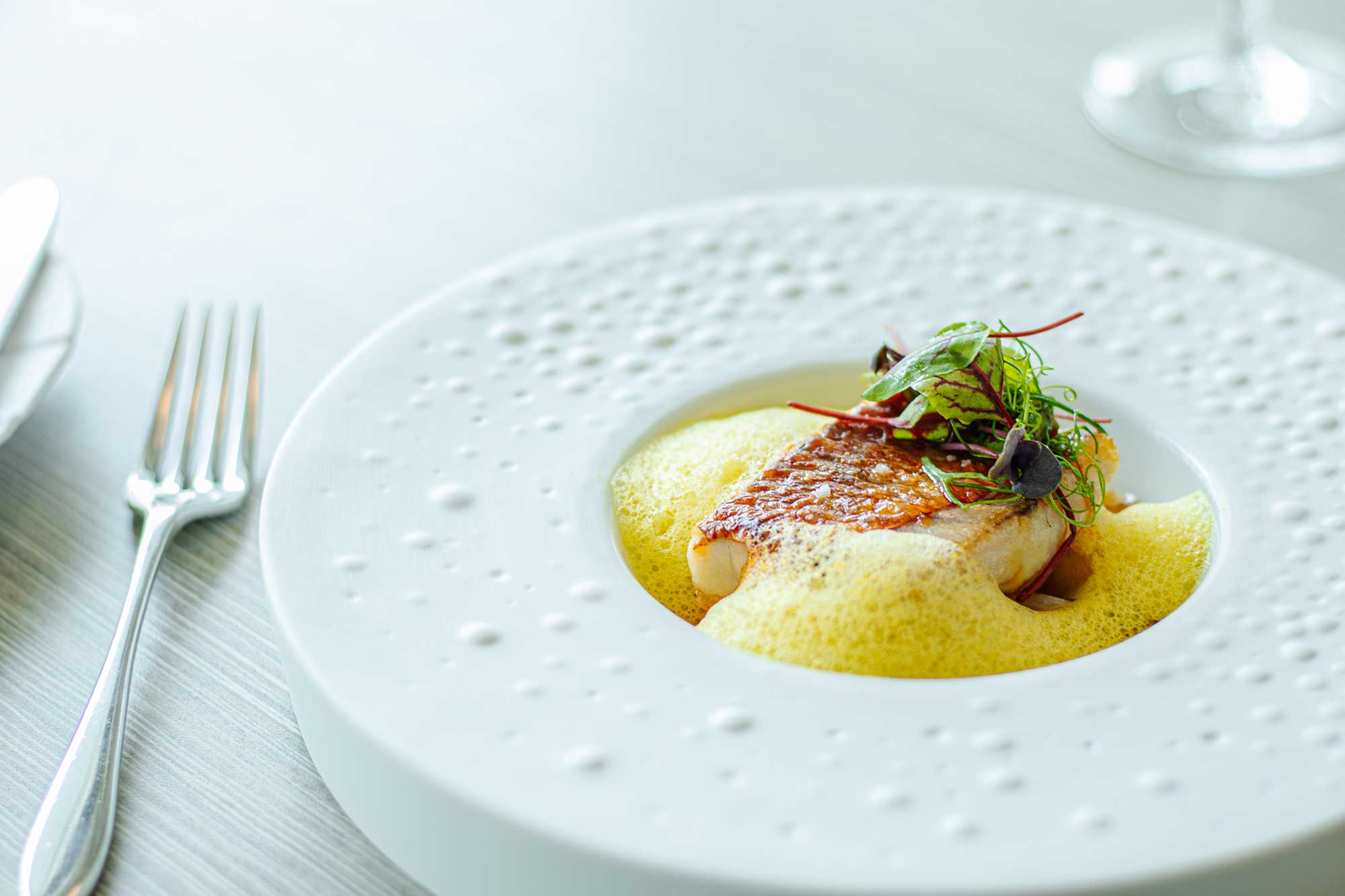 A KITCHEN FULL OF TASTE AND REQUINTE, HARMONIZED WITH EXCLUSIVE WINES IN A SOFISTICATED ENVIRONMENT
The Executive Chef, Edgar Rocha, aims to present customers with exquisite modern southern Mediterranean cuisine, full of Iberian, Italian and French flavours. Dedicated to the quality of the best local products and, the freshness of the best fish and seafood caught in the Atlantic Ocean, Chef Edgar Rocha has at his disposal on his menu some of the most authentic traditional Portuguese dishes.
At EPIC SANA Lisboa, you are invited to take a unique and unmissable journey, with the promise of renewed and diversified gastronomic flavours in every dish and moment.
At lunch or dinner, in a modern à la carte menu, we suggest some signature dishes, among other outstanding dishes such as the famous Cataplana of fresh fish and seafood or the fresh Poached Turbot with coriander with a tasty crustacean jus to that of Confit Goat Leg. For the gluttons, we have our classic and irresistible "Ivory Sphere" of white chocolate, passion fruit and coconut. To eat and cry for more!
Schedule
Breakfast: 7:00 a.m. to 10:30 a.m. (Weekends: 7:00 a.m. to 11 a.m.) 
Lunch: 12:30 p.m. to 3:00 p.m.
Dinner: 7:30 p.m. to 10 p.m.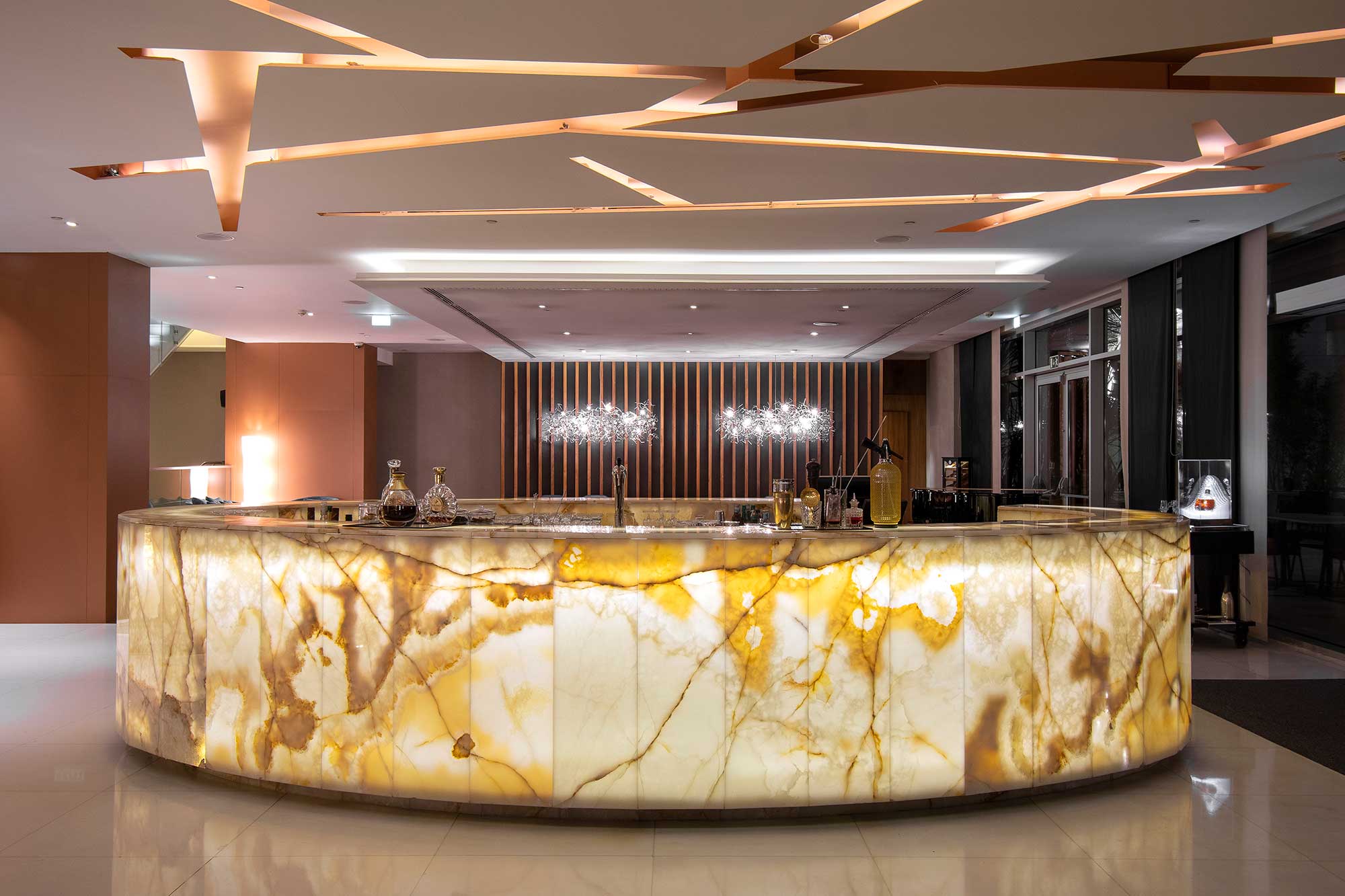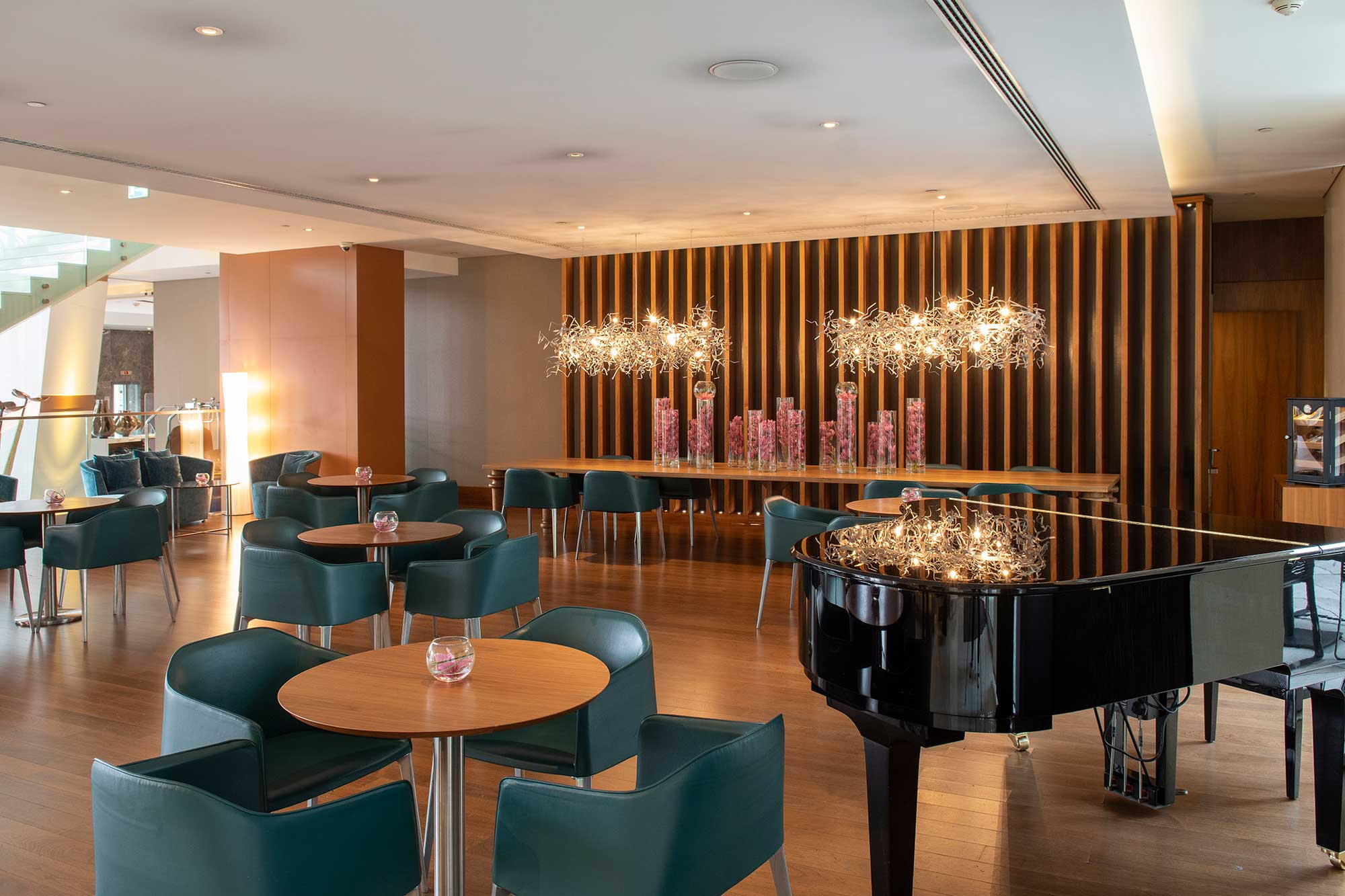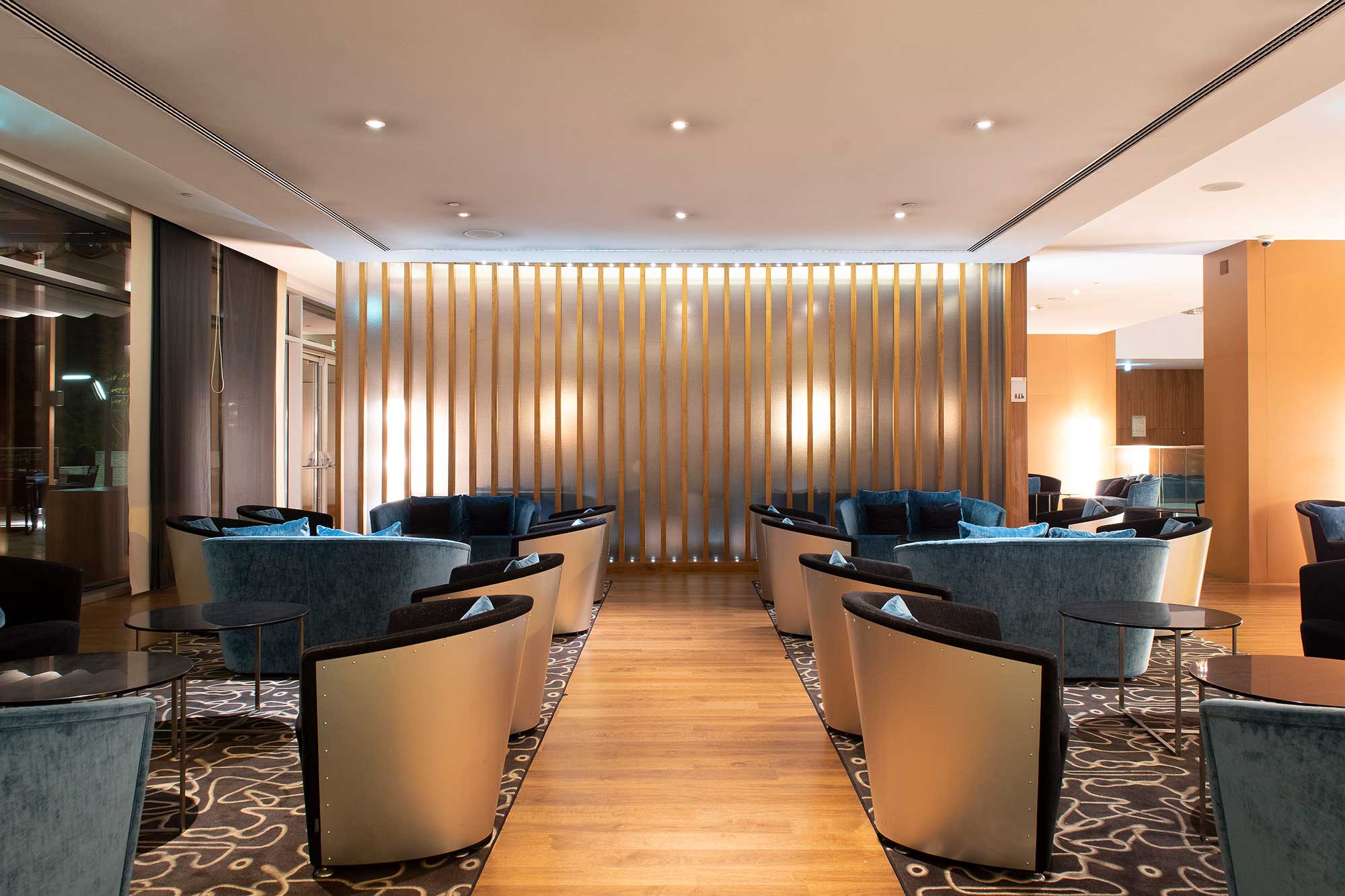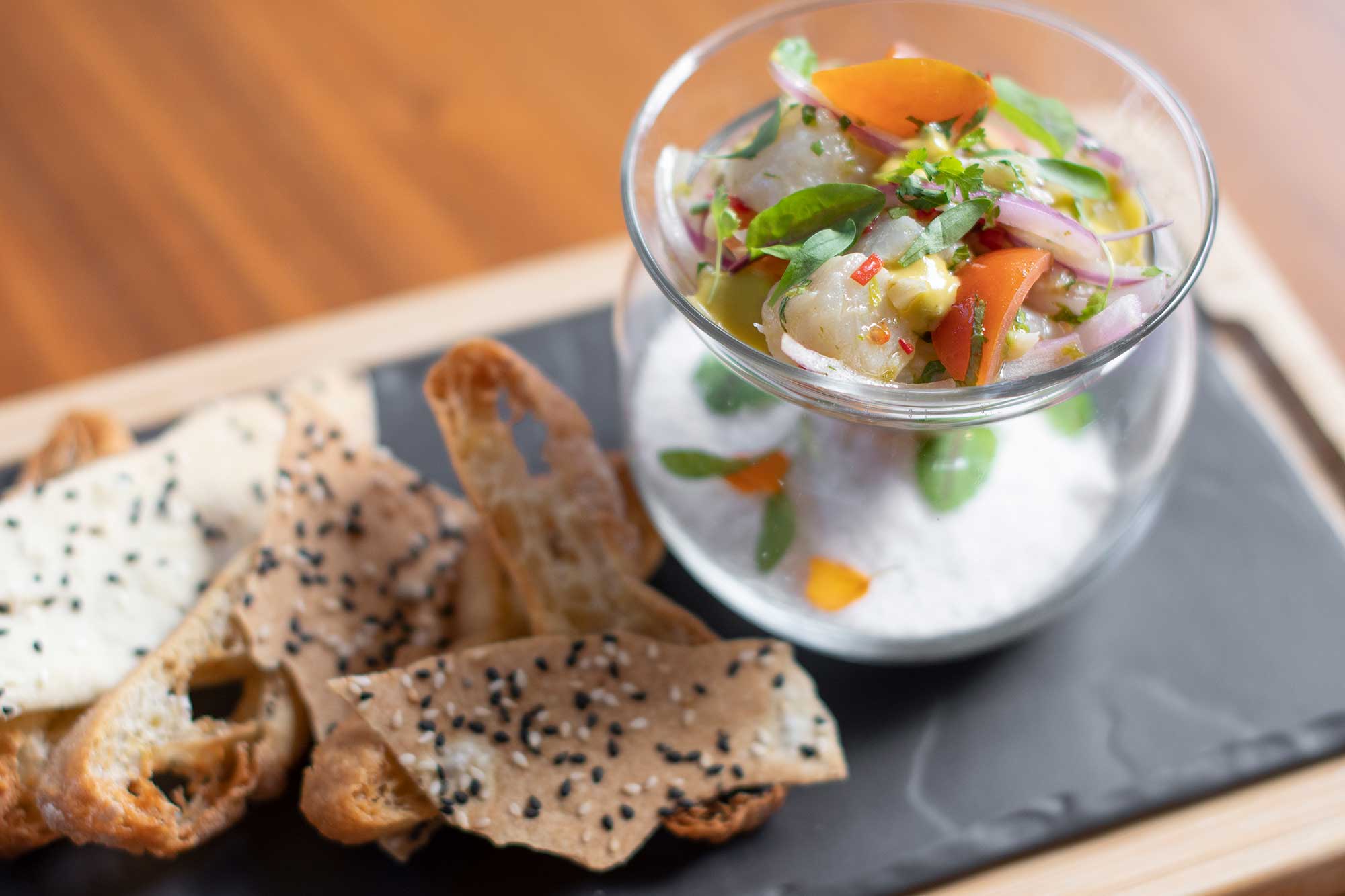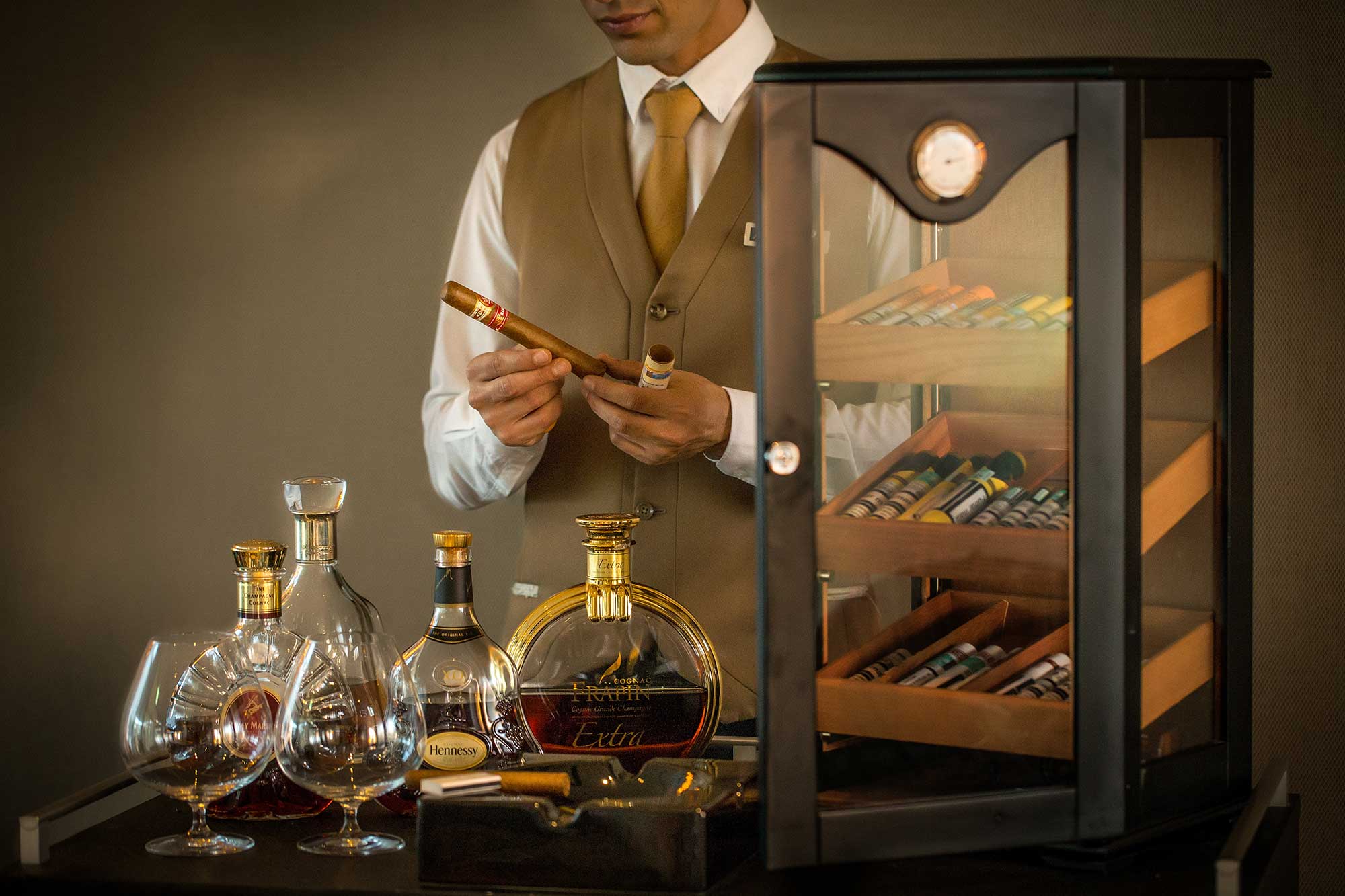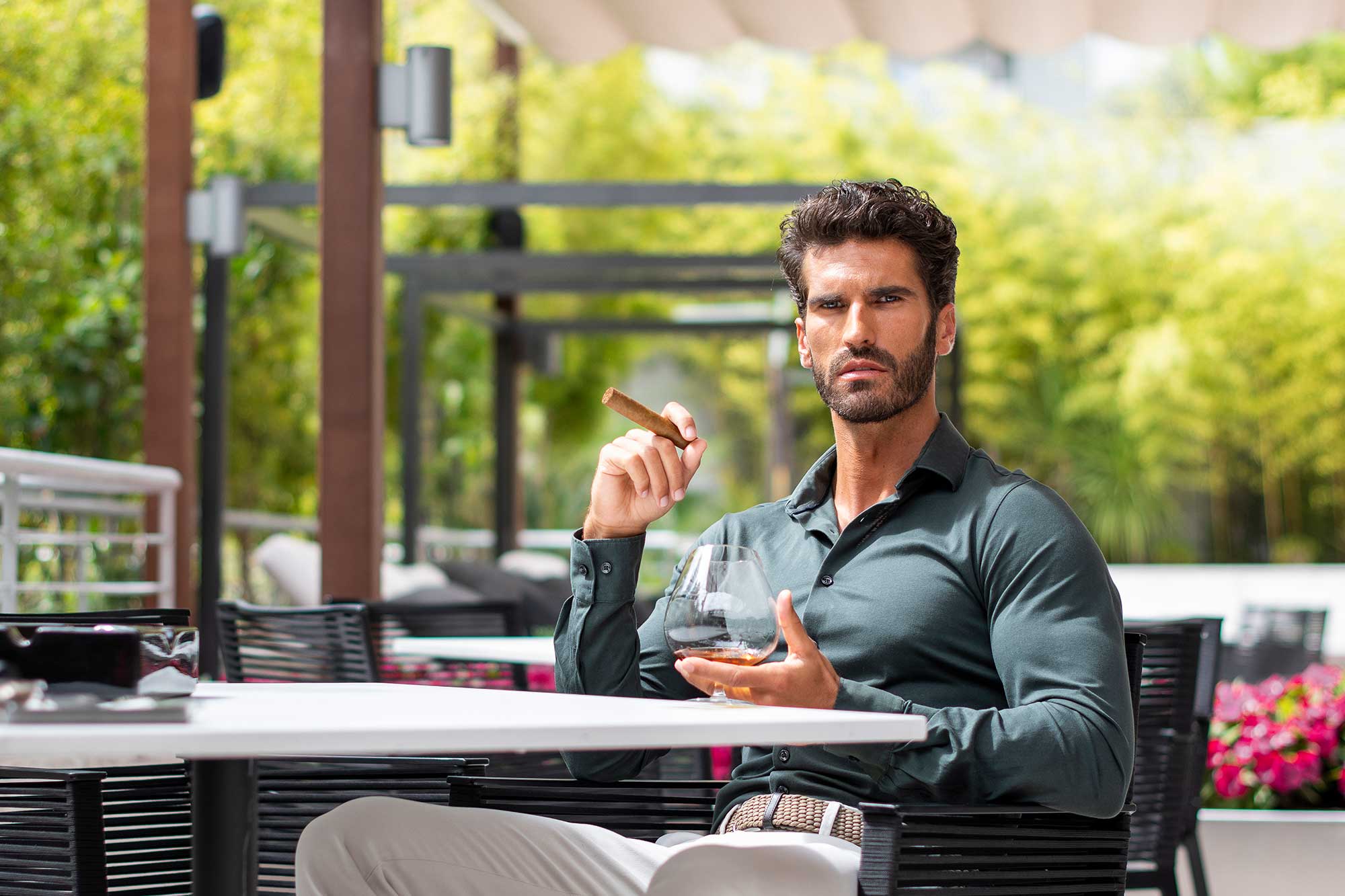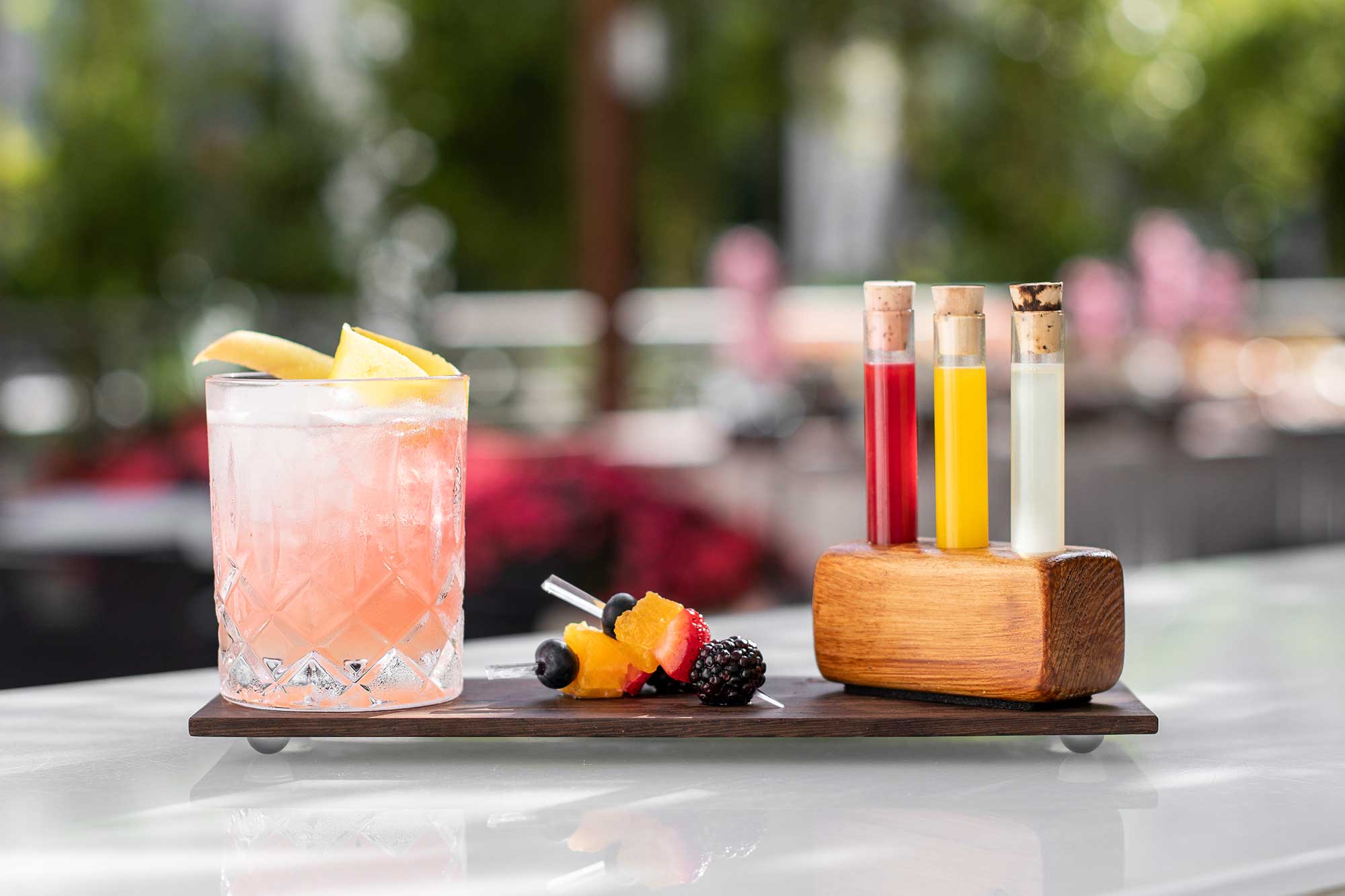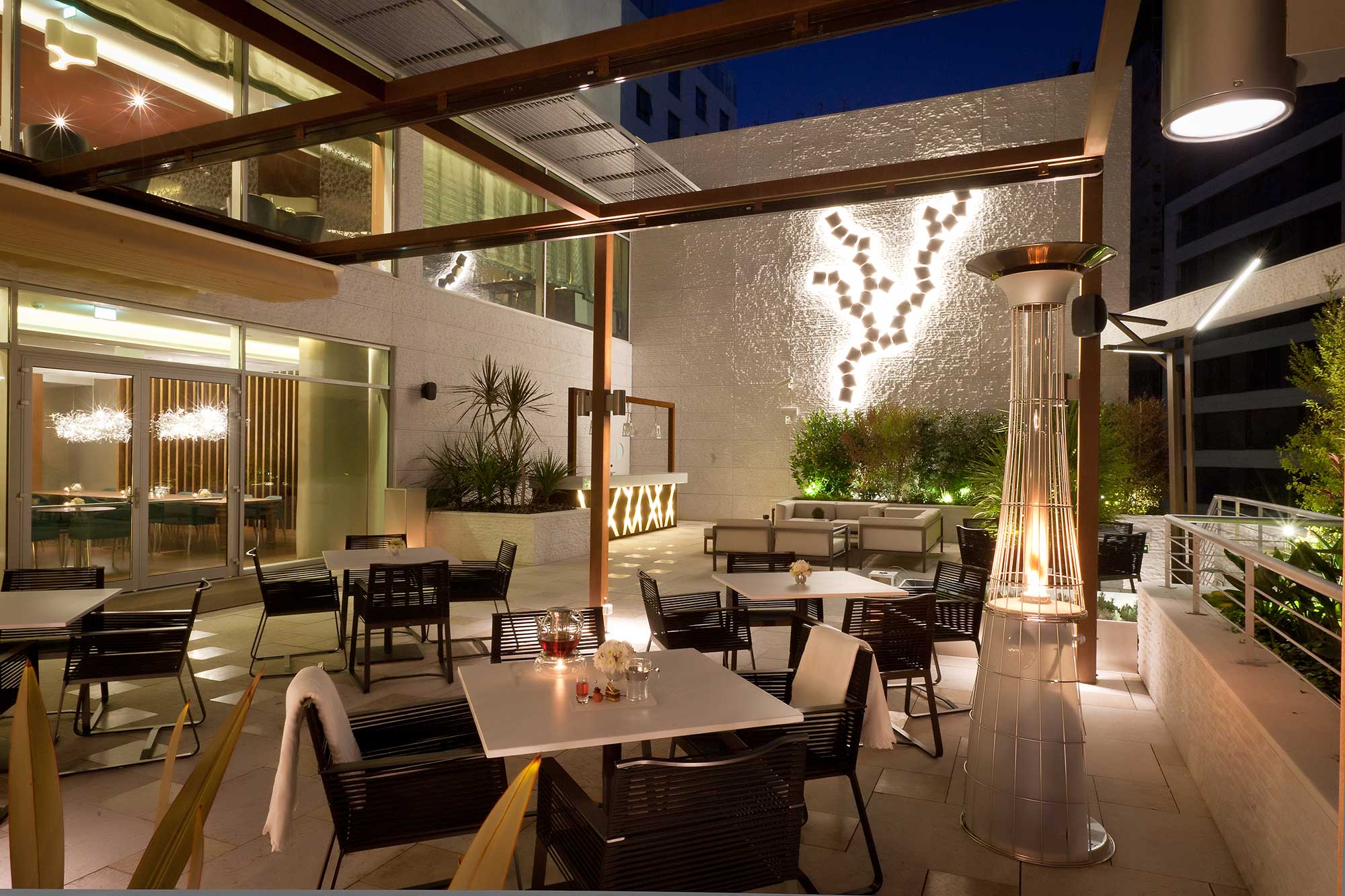 SCALE BAR
ELEGANT, SOPHISTICATED AND RELAXED ATMOSPHERE OF A SECRET HIDEAWAY IN LISBON
At any time of the day, whether on business or pleasure, guest or not, walk through the incredible lobby of the EPIC SANA Lisboa Hotel to the sophisticated and welcoming atmosphere of the Scale Bar where you can choose your place among the different environments offered. If you are looking for an environment with privacy in mind, there is a private room very well decorated with ambient light. If you want to relax in a calm environment, our terrace is the perfect choice for you.This elegant space offers a menu of food and drinks throughout the day, from delicate and classic snacks to more elaborate dishes, accompanied by a selection of classic and signature cocktails as well as a magnificent wine and champagnes cellar.
Here, our customers can enjoy our drinks menu in different environments, from the calmest and most relaxing to the most exclusive, while you can listen to our background music or a live performance. Do not hesitate to consult our entertainment schedule.
Schedule
Everyday - 08H00 to 01H00
Food Service - 12H30 to 00H00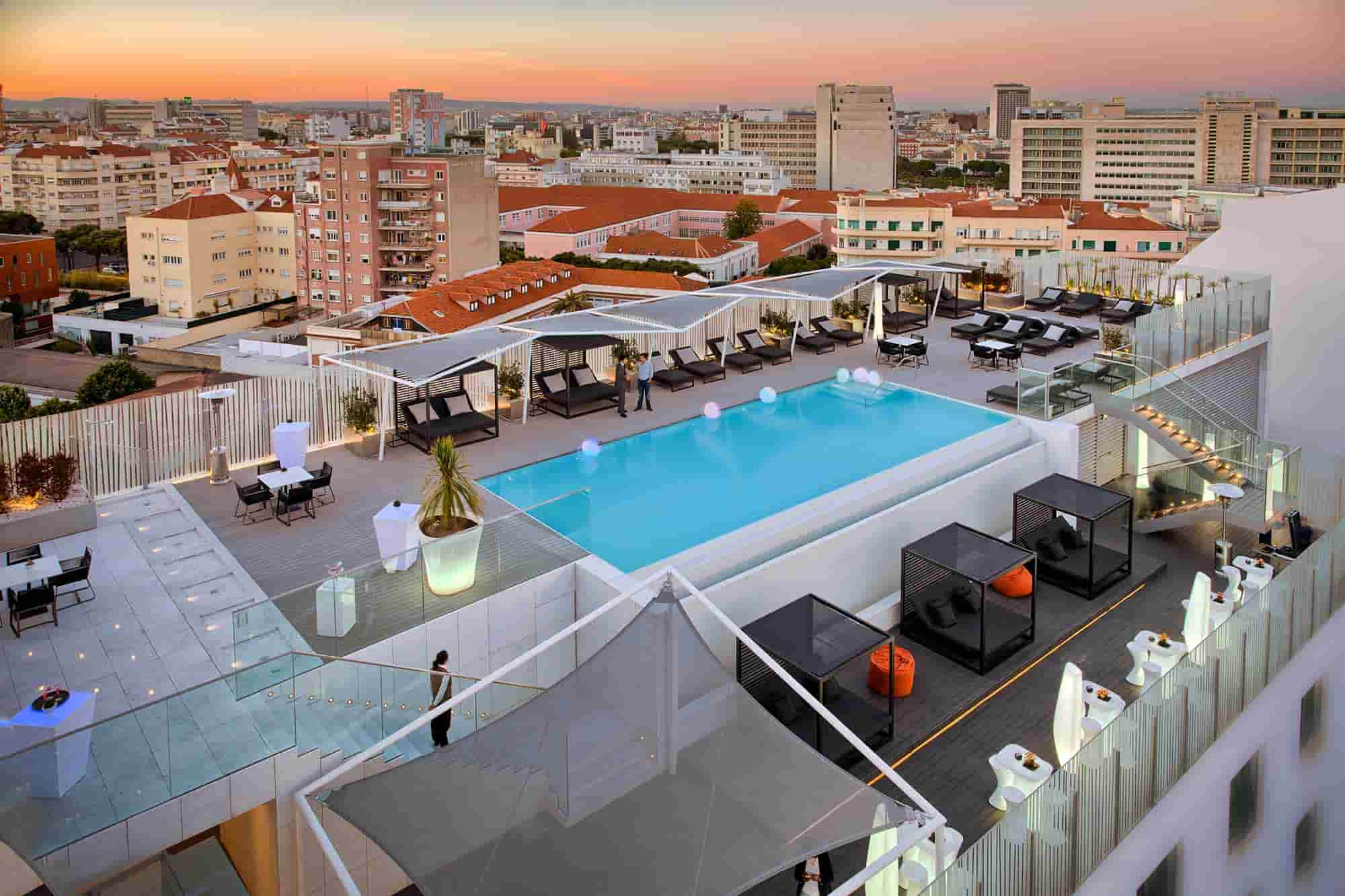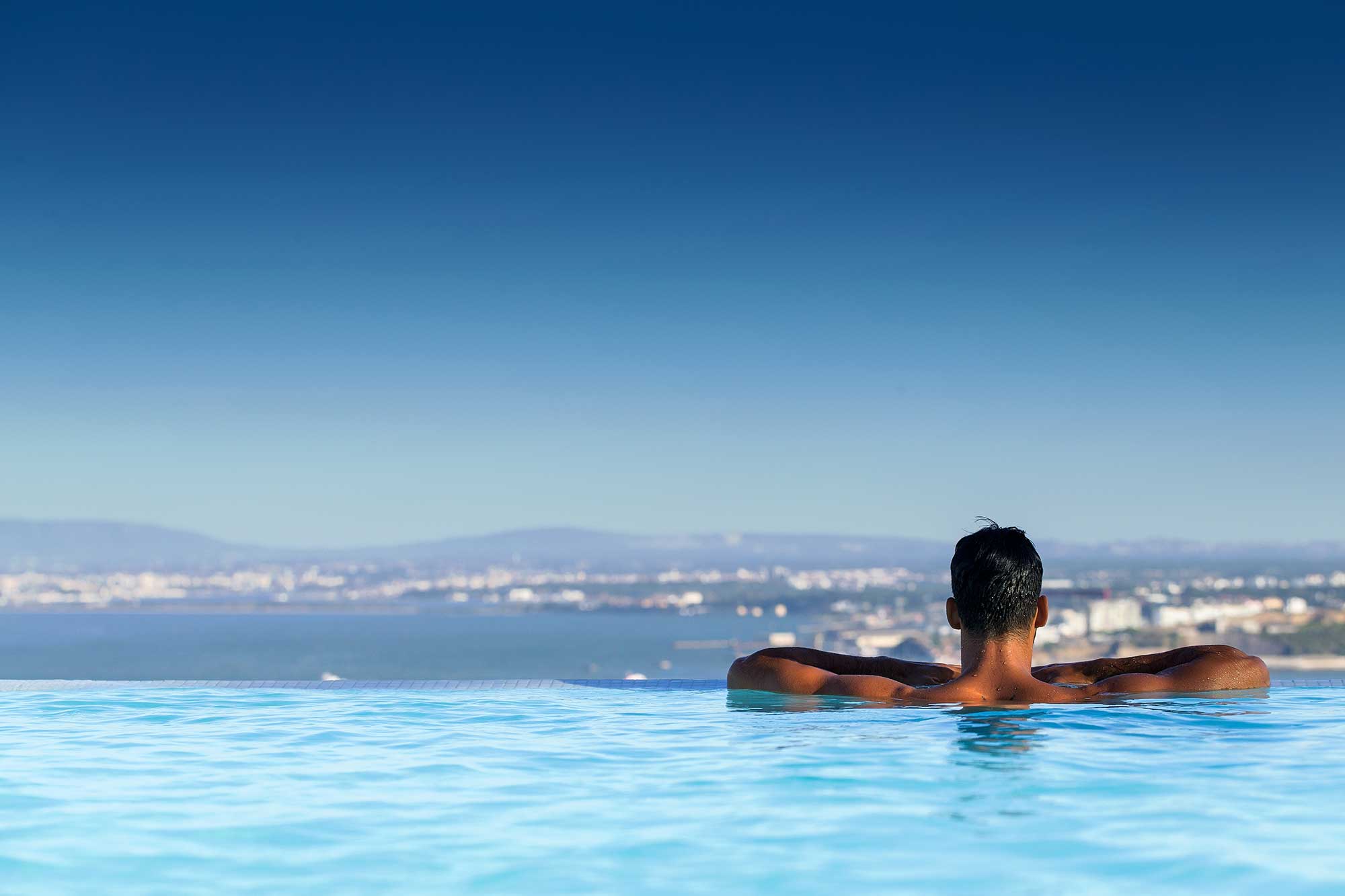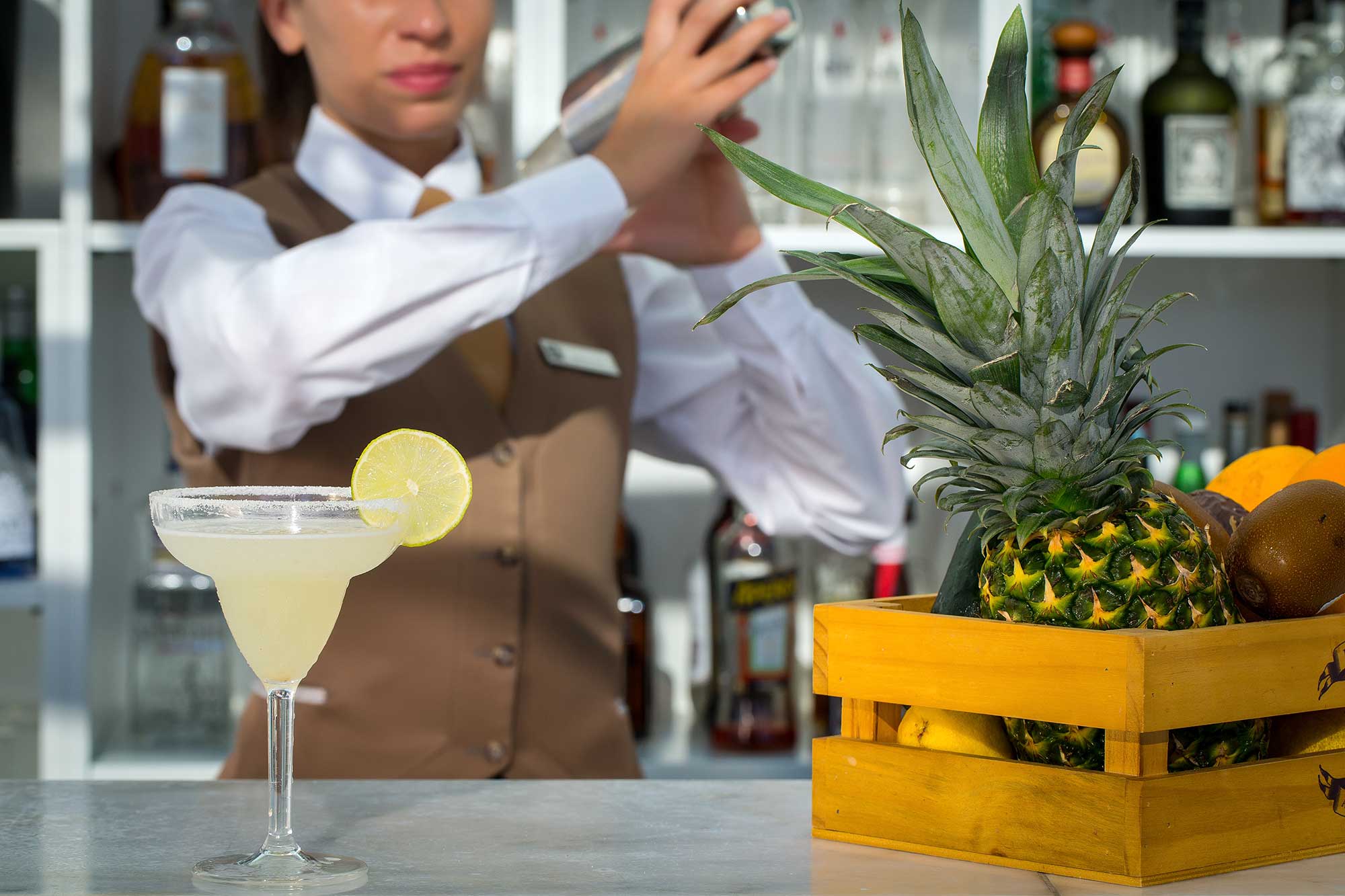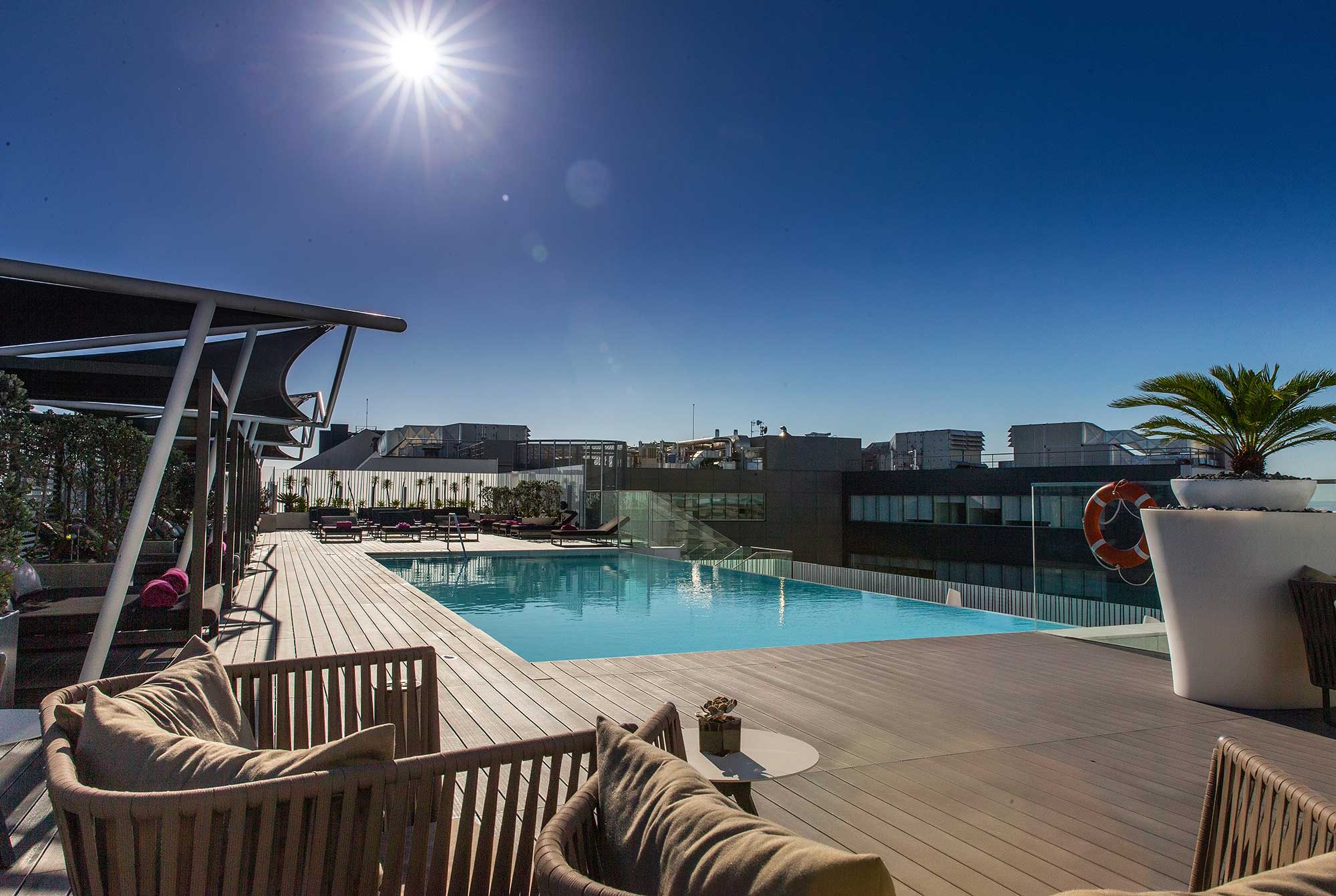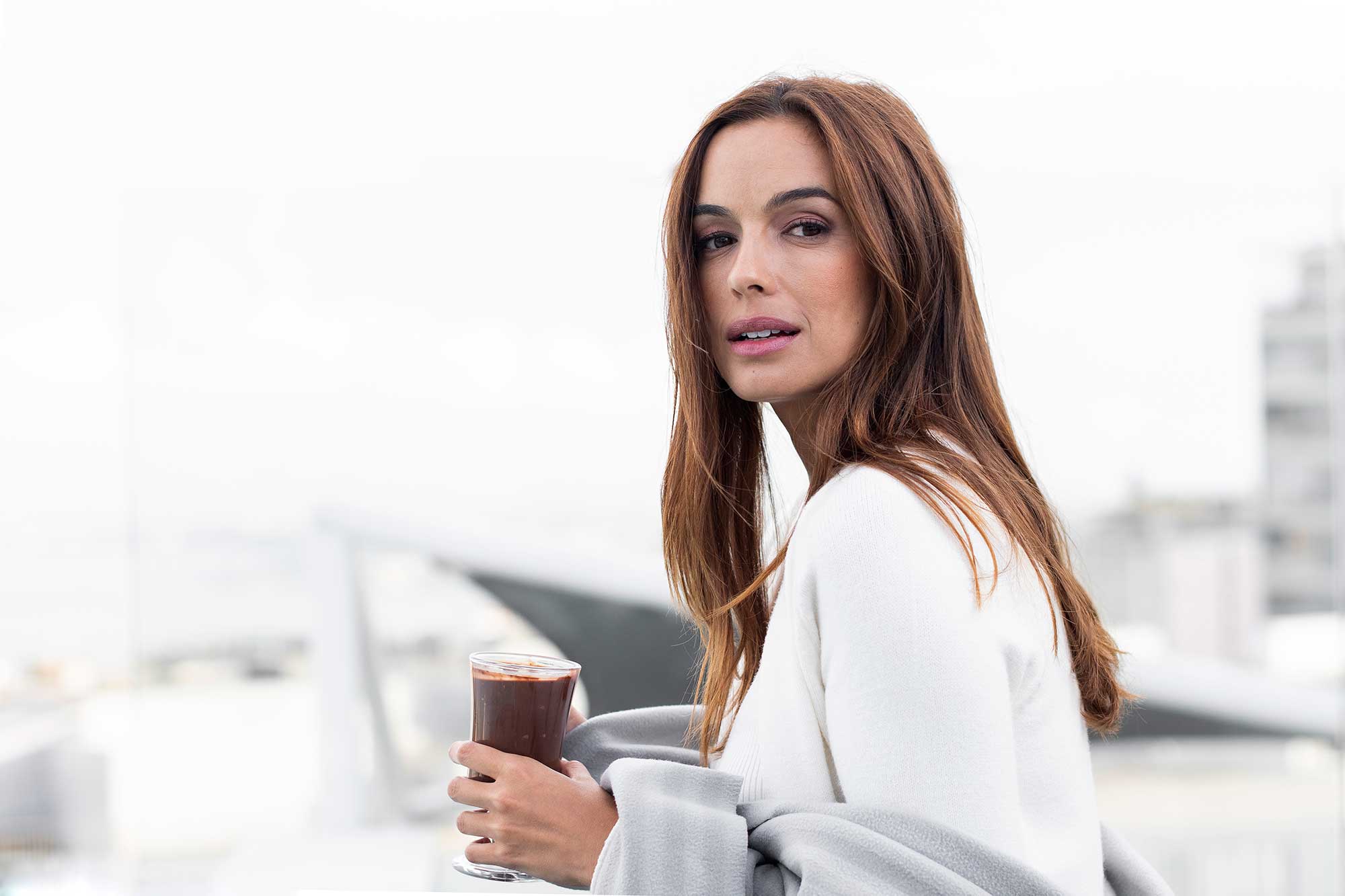 UPSCALE Rooftop Bar
ADORE THE PANORAMIC VIEWS AND THE SUNSET. EXPERIENCE THE UPSCALE
Our rooftop is divided into two fantastic floors. On the top floor, with a breathtaking panoramic view over Lisbon, you will find right at the entrance our fantastic infinity pool surrounded by comfortable loungers and sofas. On the lower floor, our bar with sofas and high chairs.
Both spaces are ideal for relaxing and enjoying the experiences offered by the Upscale Bar, from a flute of champagne to a signature cocktail to tasty snacks.
The Upscale Bar with infinity pool is in a prime location, with a seasonal opening, fantastic views over the city and a team of attentive and talented bartenders ready to prepare you the drink that makes you happy, in other words, it is ideal place for magnificent relaxing moments from the beginning of the day until sunset.
Access to the Upscale Bar and infinity pool: Free and exclusive for Hotel guests. Without reservation, we provide pool seating on a first-come, first-served basis.
Schedule:
The Upscale Bar is open from May to September - 9am to 8pm
Meal times - 12h00 to 18h00




DELICIOUS AND VIBRANT SUNDAY BRUNCH TO SHARE WITH FAMILY OR FRIENDS
Chef Edgar Rocha committed to delivering high quality products prepared in a simple way, maintaining authenticity and flavors. Always giving his personal touch chef invites you for a gastronomic journey through the most refined flavors of Italy, France, Spain and Portugal.
Family Sundays at Flor de Lis are to be shared with a selection of bakery and pastries followed by small starters such as seafood from our coast, Mediterranean salads, selection of national and international cheeses and cold meats, homemade jams and dried fruits.
Be delighted with the main dishes that Chef Edgar Rocha will prepare in our kitchen where every week news creations will show off. Enjoy and try the meat or fish showcooking that we have prepared for you.
Nevertheless our pastry chef Filipe Soares prepared a tasting of desserts and petit fours where art and flavor are intertwined in a refined and tasty way.
HORÁRIOS DO BRUNCH
from12:30 to15:00
from12:30 to15:30
46 € per adult (non-alcoholic drinks included)
Free for children under 5 years
Children from 6 to 12 years old enjoy a 50% discount on the adult price
Free parking
tou aqui