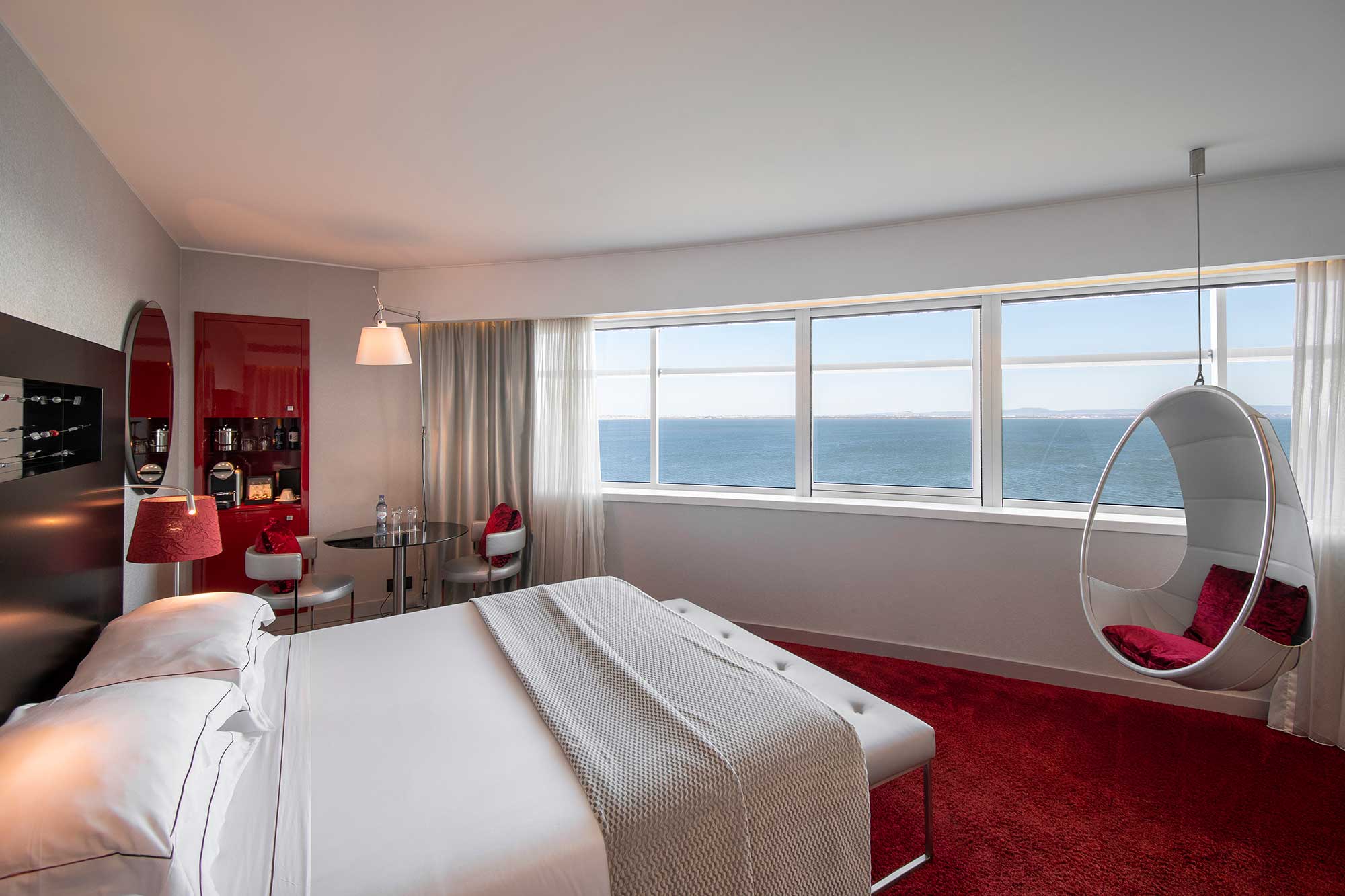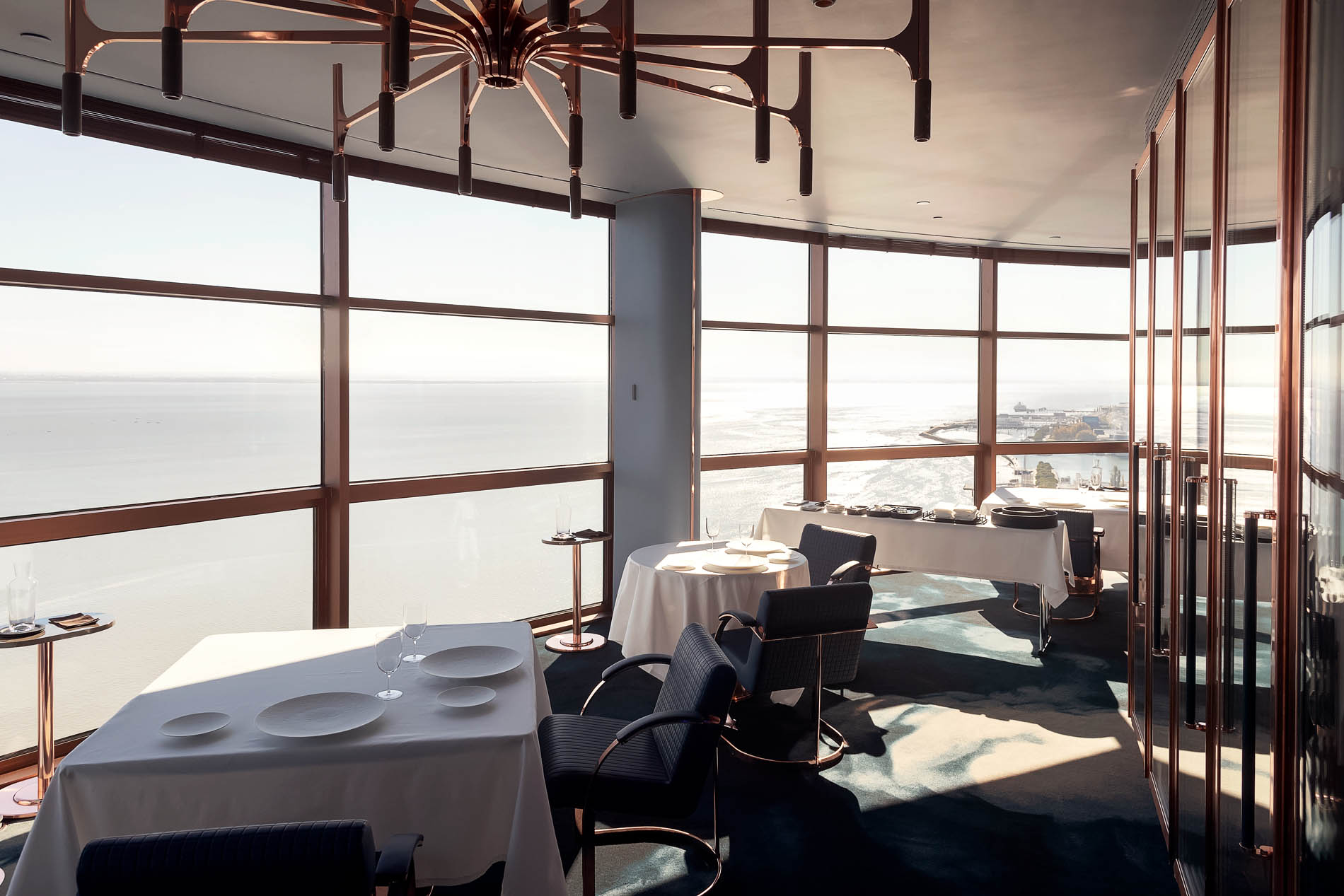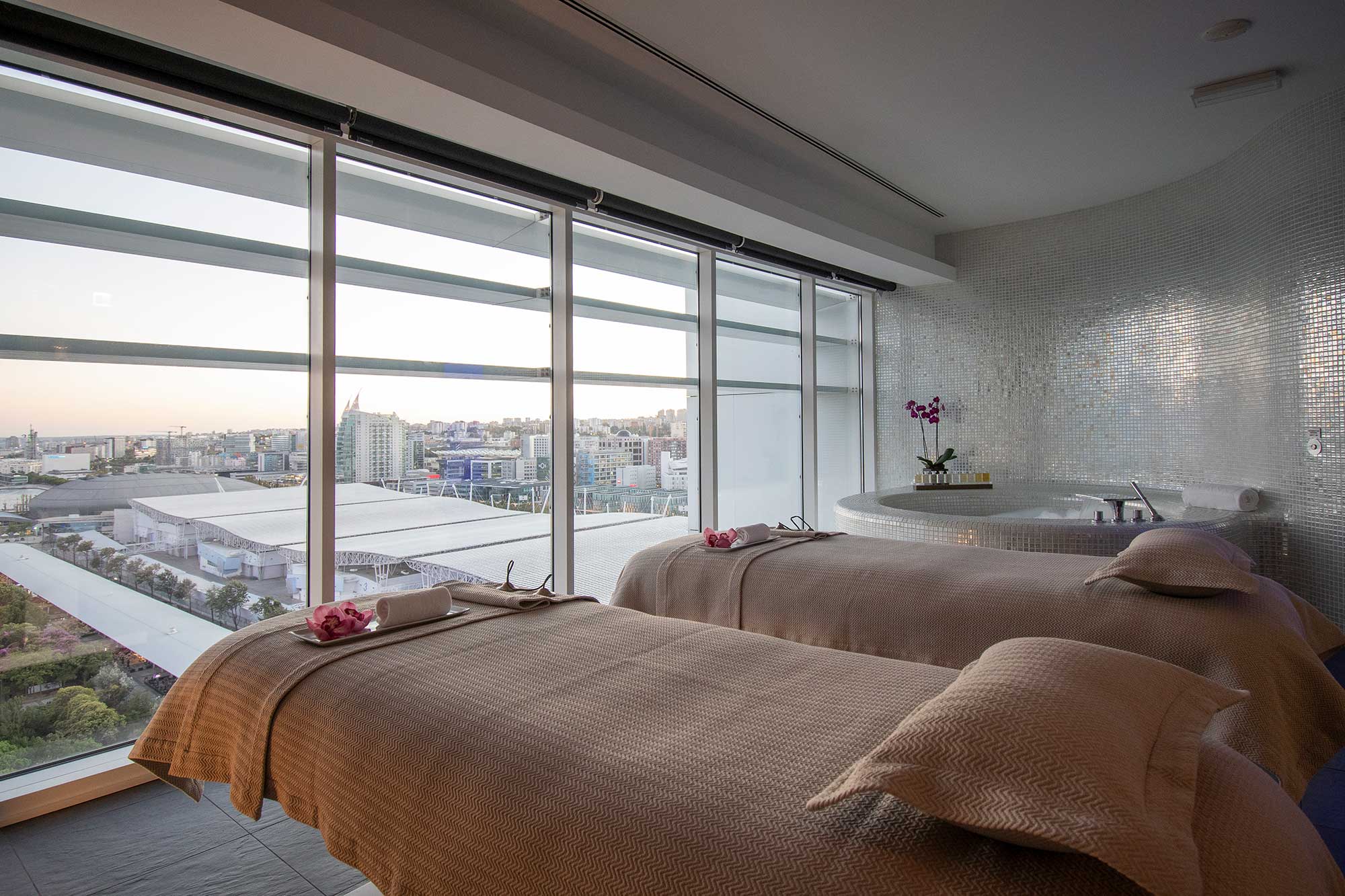 MYRIAD by SANA offers a lively luxury experience
LISBON'S MOST BEAUTIFUL SUNRISE
Myriad by SANA, Preferred Hotel & Resort member, is the perfect luxury cosmopolitan hotel, by the river in Lisbon with extraordinary, diversified facilities, all, without exception, with unparalleled panoramic views on the river or the parque das Nações, to take your breath away. An absolute unique experience offering an unending modern natural outdoor scenic for sport, nautical, and discovery activities, as well as a full life of entertainment and catering. For all dynamic and indulgent travelers, in leisure or business, ready to live an exciting unforgettable journey.
The hotel features 186 contemporary designed rooms and suites; 1 magical top tower star Michelin restaurant - FIFTY SECONDS,for incredible epicurean experiences; 1 restaurant and bar with terrace – RIVER LOUNGE, with one of the most trendy, charming and unique hotel terraces on the river in Lisbon, to enjoy all day long; on the top floor; 1 sublime SAYANNA WELLNESS &Spa – with 4 treatment rooms, indoor swimming pool and fitness center, all with full river views.
Natural light is predominant in all the rooms, meeting rooms and restaurants, but also in the Myriad Crystal Center, where they can be converted into an extensive conference room or an imposing gala hall for holding meetings and celebrating all kinds of events.
wifi free_breakfast spa local_bar bathtub airport_shuttle local_parking room_service pool family_restroom

PREFERRED HOTEL & RESORTS
Myriad by SANA recognized as a Preferred Hotel
Preferred Hotels & Resorts represents the finest and most diverse global portfolio of independent hotels and independent hotel experiences. Five distinctive collections allow one to craft their own inspirations as one travels the world in search of memories and new opportunities.






Attractions
Privileged location of a vibrant destination
Lisbon is known as a stunning capital city, one of the safest, charismatic, vibrant cities in Europe, and MYRIAD by SANA is in one of its areas that offers some of the boldest contemporary architecture - parque das Nações, built on the heritage of EXPO'98, "the invented city turned into reality".
Combining diverse amazing venues and a wide array of shops, restaurants, and bars, all located along a breathtaking 5 kilometers stretch of the Tagus river front. You and your family will be delighted, among other discoveries, with the Oceanarium, one of the largest in Europe; the "Teleférico da EXPO", the cable car, floating high above the park and Tagus estuary; the outstanding interactive science museum; the delightful thematic gardens to walk, relax or exercise; exhibition centers, shows and events, and all with easy access and parking. 
And located at only 30 minutes from the main famous historical and cultural Lisbon's landmarks and charming surroundings with sandy beaches, such as Costa da Caparica. Some of these location are the Rua Augusta Arch, Belém Tower, 25 de Abril Bridge, but also one of the upmost contemporary locations to visit: MAAT, the Museum of Art, Architecture and Technology.
The neighborhood provides an entertainment and activities for all modern travelers and their family, turning the MYRIAD by SANA the perfect choice.
Booking.com
Positive: Fun location with lots of great neighborhood restaurants. Great view from every room. Convenient to airport. Negative: Our room's air conditioning...
Expedia
What is there not to love about this fabulous five star property? Unique design, attention to detail, music played on the red grand piano on the weekends,...
Google
Only been to the bar lounge but it has a very peaceful feel. Good decor, good drinks, piano playing... Really great
Google
Wow at the service and cleanses of the rooms
Booking.com
Positive: The location is great. lovely views of the river. also close to the Oceanarium and the Cable Cars. it's a stone throw away from the airport. the...
Booking.com
Positive: Thank you it was perfect.
Google
Great experience, great staff, really enjoyed my stay.
Expedia
Loved the stay! Very clean,organized
Expedia
Never thought that in Myriad some of my personal belongings would dissappear and the only thing that it was done was an apology... Totally unexpected since...
Google
Superb service from the staff here. Views are nice from any rooms. Was given a room on the 20th floor and did not want to leave my room!
Booking.com
Positive: Everything was great room's view prefect breakfast and staffs almost everything was fabulous. Negative: Nothing at all.
Booking.com
Positive: Wonderful Hotel, friendly staff, 5* breakfast ….
Location
Easy access to a privileged location of a vibrant destination
Cais das Naus, Lote 2.21.01
1990-173 Lisboa
Parque das Nações
Nacional Tourism Registry
RNET Hotel - 3583