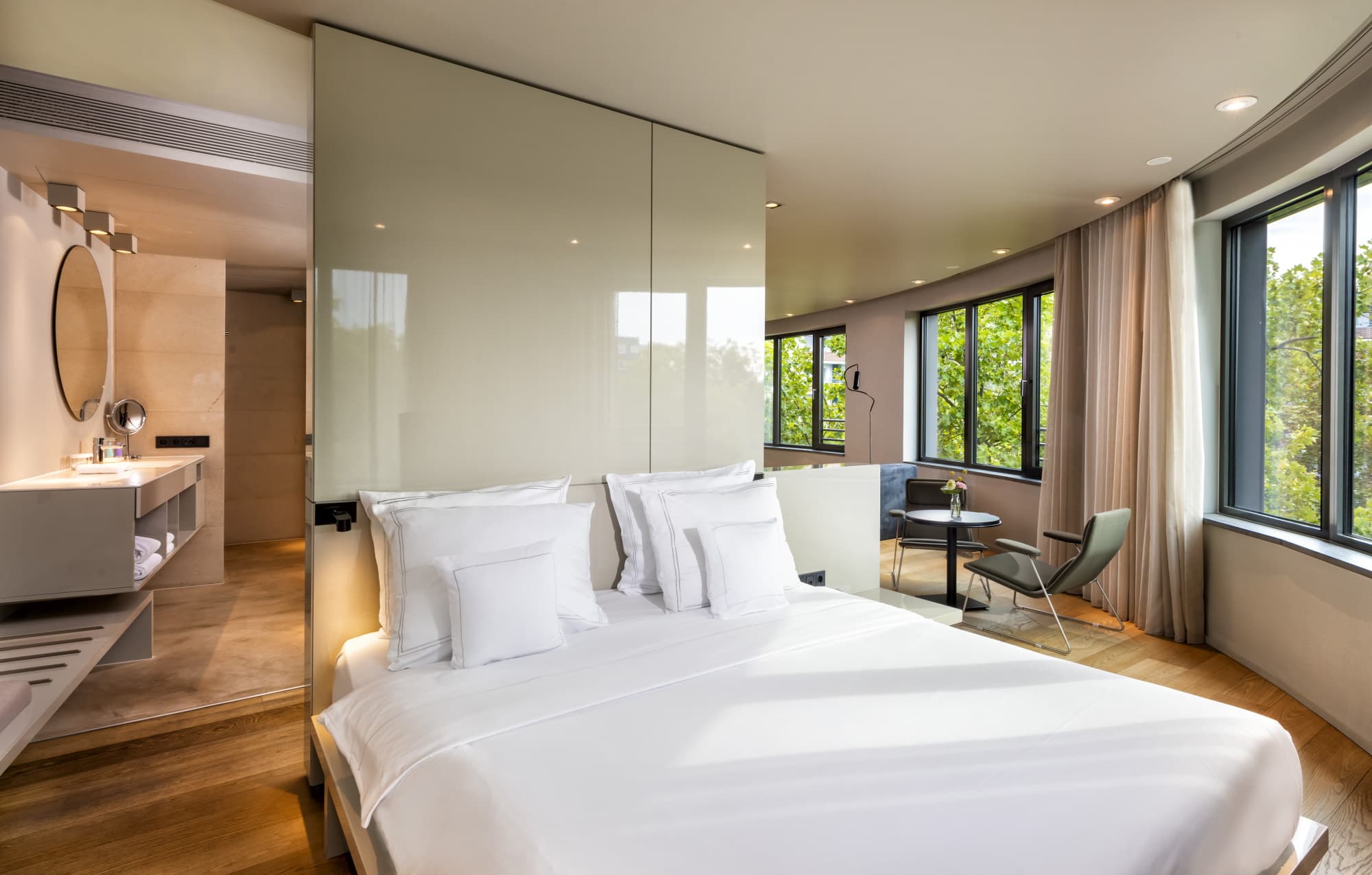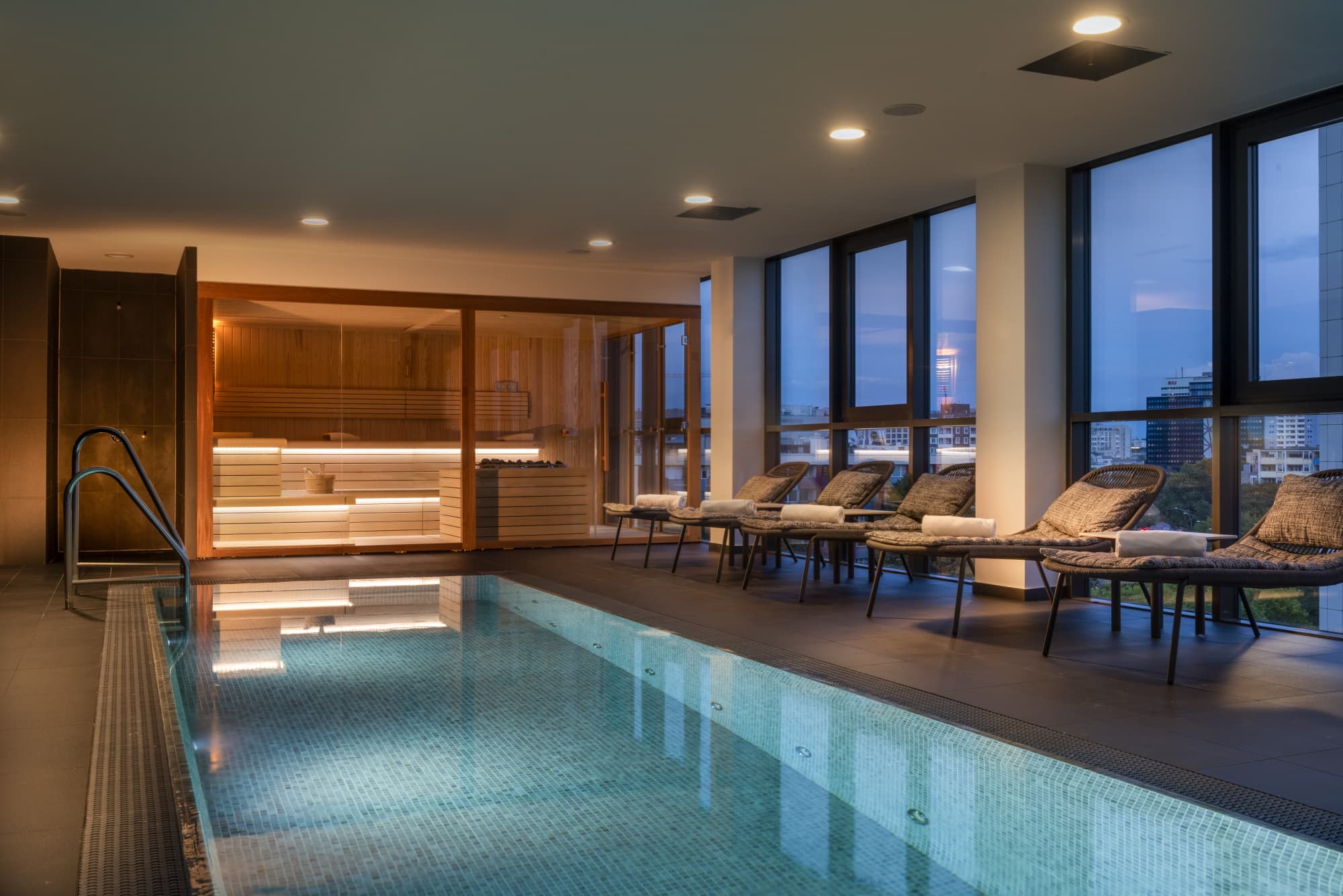 Situated in one of Europe's most captivating cities
A LANDMARK REFERENCE IN THE OLD WEST BERLIN
Located in a dynamic area of the city, Hotel SANA BERLIN is surrounded by an extraordinary and incredible diversity of cultural, commercial and entertainment activities.
Whether for business or pleasure the Hotel offers, in a single building, 166 elegant, bright and contemporary Rooms and Suites and 42 spacious 1- and 2-bedroom Residences, with the same style but their own features and advantages, and an exclusive access to the Residences.
Offering 1 Lobby Bar & Restaurant with a terrace Lounge, a true urban meeting point for Guests, local Residents and Visitors; 1 relaxing Wellness area, the perfect haven to relax, exhale and re-energise, with an indoor heated pool, sauna with panoramic views, massage service and 1 fitness space.
To complement the experience, the hotel has 6 Meeting and Event rooms equipped with state-of-the-art audiovisual technology and connectivity.
wifi local_parking free_breakfast room_service pool smoke_free tv pets local_bar fitness_center





Attractions
A sense of design at the arrival
Berlin is one of the most iconic and trendy cities in Europe, a world city that blends creativity, innovative technology, and culture. Proudly keeping its historic heritage and offering a great range of captivating sights to visit, in land or on the river.
By being in a dynamic neighborhood SANA BERLIN Hotel offers easy access to diverse activities, such as and among others, the beautiful inner-city Tiergarten Park, the exciting Zoo, the famous shopping boulevard Kurfürstendamm, the renowned KaDeWe department stores and the iconic Memorial Church Kaiser-Wilhelm-Gedächtniskirche.
For the ones who want to discover the city at different ways and paces, alone or in organized tours, by walking, metro, bus, taxi, or electric bicycle and scooter-sharing, our kind Reception team will be more than pleased to assist you with your discovery visit by sharing some great insider tips.
Google
Absolutely amazing, I've been to Berlin alot and this was by far the best hotel yet. I stayed in the apartment room where you have everything you need, the...
Agoda
Absolutely Stunning!! On toppest floor with lil balcony and tub. Thanks s lot 🙏🏽
Booking.com
Positive: Perfect location - Very comfortable Bed - Great staff - Good breakfast.
Booking.com
Positive: I was there for my birthday and the staff at the hotel had surprised me with a bottle of Champagne, dessert and also a sweet birthday card in my...
Booking.com
Positive: Location, room, comfort, underground parking.
Booking.com
Positive: Super friendly staff, very clean hotel, excellent breakfast. I can only recommend this hotel!.
Google
A Sunday breakfast in Sana Hotel Berlin is just an experience that you shouldn't miss. You can enjoy a big variety of eggs, cheese and ham, fruits and...
Google
Beautiful Hotel, nice staff and clean rooms!! Perfect stay!! Anytime again...!!
Google
The place is amazing close to everywhere in the city and excellent customer service
Google
Great hotel, good rooms, very nice people attending you. I really recommend it
Booking.com
Positive: Very spacious suite for families. We will come back for sure.
Location
Berlin is the perfect European holiday destination. In the centre of the City-West, between Ku'damm, the Memorial Church and the KaDeWe department store, the SANA BERLIN Hotel has a prime location in Berlin's City West. Berlin-Brandenburg International Airport (BBI) is only 30 minutes away from the SANA Berlin Hotel.
Nürnberger Str. 33/34
10777 Berlin