It is undeniable: the last few years have opened the door to technological evolution in the realization of corporate and social events.. The events industry has reinvented itself and is already reaping the rewards.
Over the past few years, we have begun to use technology in ways we never imagined. Suddenly, we have been forced to trade meeting rooms in the office for dining rooms in our homes. We have been able to bring people together from a distance, increase the number of participants, and break down physical boundaries. All thanks to digital technology.
Today we are again able to work and meet face-to-face. But the gains from experience are enormous and give us the path for the future. At SANA World, this is an unstoppable trend: to enhance face-to-face, online, or hybrid meeting experiences, we incorporate more and more technology at every step of the process.
Face-to-face, online, and hybrid events or meetings. What is the difference?
While in face-to-face events human interactions are face-to-face, in online events these same interactions are virtual. However, you can have the best of both worlds: these two types of events can be complementary, i.e., it is possible in the same event to have face-to-face and online initiatives, thus gathering a larger audience.
There are several types of corporate events, such as congresses, workshops, conventions, symposiums, training sessions, or team building that can be held in this model, for which we have the best conditions in terms of facilities and technology. Whatever your choice, know that all scenarios are possible in the SANA World.
Facilities and technology you will find at World SANA
At SANA hotels in Lisbon, Algarve, Sesimbra, Caldas da Rainha, Berlin and Luanda we ensure the continuous update and innovation of technologies in all our business units and distribution and management processes. Digital solutions are increasingly present in the experience of our customers and paper is being replaced with digital communication equipment - Digital Signage, LCD, LED Walls, tablets, and apps. This appreciation allows us to maintain our ambition to continue to grow in the field of innovation.
For your event to be a success you have at your disposal a state-of-the-art, highly adaptable internet, and audiovisual network infrastructure, as well as a technical support team available exclusively for your group or company.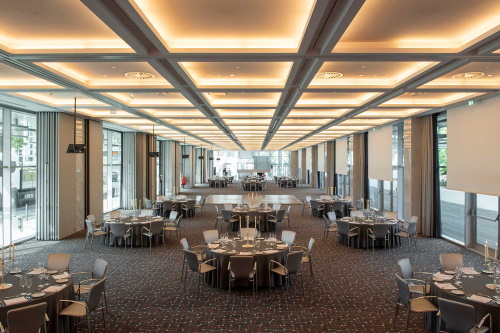 TECHNOLOGY
Digital communication and audiovisual equipment, such as digital signage, Led Wall
Technical support
Wi-Fi networks with SSID configuration (specific for each client/event)
State-of-the-art Wi-Fi network suitable for high user density
Public IP addresses, for connection to conference equipment, streaming
Bandwidth capacity specific for each event
View all Meeting Rooms